With the festive decorations safely stashed away, it's time to turn our minds to the new year ahead; looking forward to longer lighter days, fresh green shoots breaking through the soil, and for many of us, working on improving our health and wellbeing.
At this time of year, the media is full of 'new year, new you' messages, but not all of us want (or need) to join a gym or start a drastic diet to feel better. Just getting out and about in the fresh air, walking along the beach, going for a bike ride, or treating yourself to a little pampering can work wonders for wellbeing.
And whether you're on a new year break, or fortunate to live locally, there's so much to do in Bournemouth and Poole that will help you to feel refreshed and reinvigorated.
Wonderful walks
Beautiful beaches abound right on our doorstep, so wrap up warm and take a bracing walk along the stunning coastline. It's quieter at this time of year, but just as scenic; whether it's from Boscombe to Bournemouth Pier along the promenade taking in the views across the bay, or west of the pier, where you can walk all the way along to the Sandbanks ferry. Take in the amazing views across to Studland and the Isle of Purbeck - the fresh sea air really will blow away the cobwebs and get your blood flowing, walking is one of the best forms of exercise. Treat yourself to a warming drink at the end of your walk – you deserve it!

Gardens walks aren't just for summer
Bournemouth and Poole's parks look stunning all year round, so look for the first signs of spring. Spot an early budding crocus and daffodil, the first signs of blossom, and birds starting to nest. Bournemouth's Lower and Middle Gardens offer a peaceful meander down to the sea.
A walk round Poole Park's tranquil lakes, watching the many birds that over-winter here is fascinating. This lovely park close to Poole town centre is a level walk where you can take in the views of Poole Harbour, and enjoy a leisurely lunch or drink in the park's cafes.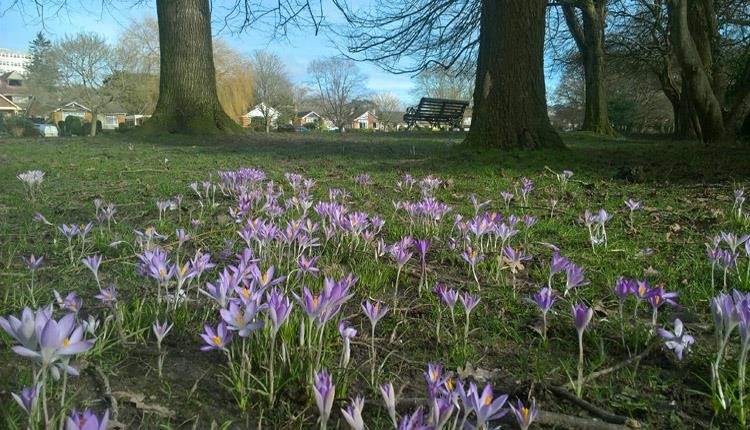 A leisurely cycle
If you want to try cycling, there's no better time to get out and about on a bike around Poole and Bournemouth. Cycling lets you take in your surroundings whilst exercising, and is a real benefit to health and wellbeing.
Both Bournemouth and Poole offer a range of cycle routes, for all ages and abilities. Whether you choose the cycle trail around Holes Bay in Poole with its bird life and Purbeck views, or Bournemouth's natural wonder Hengistbury Head, you won't be disappointed. There are bike hire options if you don't have your own bikes, too.

A spot of pampering
After the hectic whirl of indulgence during the party season, treat yourself to a bit of well-deserved pampering. Whether it's a manicure and image refresh at one of the many hair and nail salons; or something more luxurious in one of Bournemouth and Poole's spa hotels offering heated pools, treatments, and panoramic views. Step from the shore straight into the sauna - getting that healthy glow never felt better!
In Poole, the home of 'Lush' cosmetics, there is a Lush Spa in the Old Town, offering a range of specialised wellbeing beauty treatments in relaxing surroundings.
However you decide to work on your wellbeing this year, this will give you some ideas to try!
Credit: Written by Geraldine Cetin
Related
0 Comments