Collaborate, communicate and create value.
A promotional partnership for the BCP Tourism Industry
Become a Partner with the Official Tourist Boards for Bournemouth, Christchurch & Poole. Join us and raise your profile on our official Bournemouth, Christchurch and Poole tourism websites. There are a number of opportunities available to showcase your business whether you are an accommodation, attraction or transport provider, a restaurant, café, bar or retailer or local business services.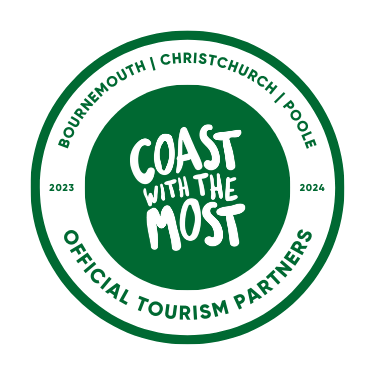 Choosing the right partnership for you
If you run a Hotel, Guest House, B&B, Caravan/Camp site or Self Catering holiday property you'll want to feature on our Accommodation pages.
If you're a local attraction or activity, you'll want to feature on our Things to do pages. This membership is also appropriate for event organisers and transport providers.
List your food and drink establishment, from cafes and restaurants to catering businesses and local producers. A food and drink partnership with tourism could be perfect for your business.
This partnership option allows individual retail suppliers to feature on our shopping pages.
Local business services can sign up to partnership and will sit under our shopping page. These businesses include Finance and Insurance Companies, Education Providers, Photographers, Food Suppliers and Design Agencies.
We also have a number of advertising opportunities available if you are just looking to take advantage of the great traffic our webpages receive.
Read more on our Advertise With Us page and remember if you're a tourism partner you'll receieve discounted rates.
Who we are and what we do
We are the Destination Marketing Organisation (DMO) for Bournemouth, Christchurch and Poole and part of the Destination and Culture Directorate within BCP Council, working in partnership with hundreds of businesses across the resorts and wider Dorset. Our focus is to increase economic benefits of tourism across the destination and to promote our visitor experience across the UK and overseas.
We recognise the importance of the local tourism industry which generates over £1 billion* visitor spend across Bournemouth, Christchurch and Poole and attracting an incredible 11.5 million* day and 1.65 million* staying visitors annually to our resorts.
*figures based on 2019 to reflect normal year
Promoting your Business - Partnership Benefits
We are responsible for delivering integrated marketing and communications campaigns to promote and position Bournemouth, Christchurch and Poole as world-class destinations. We cover all aspects of tourism marketing, social media and PR, including digital marketing through our official tourism websites.
Supporting recovery
2022 was an incredibly busy year, and our team seized every opportunity to promote our destination, achieving some impressive results and awareness. You may have spotted the resorts on national and regional TV, seen us in the papers and online with coverage in: The Telegraph, Times, I news, Mail, Waitrose weekly news to name a few! Or even heard us on the radio.

We continued to see growth across our digital and social channels with over 2 million visitors engaging with our tourism websites and content. Our websites offer a trustworthy and official tourism resource to showcase and promote your business to a highly engaged audience.

The Feels like campaign kicked off our spring/summer season followed by Beyond the Beach encouraging visitors to explore the wider offer during the peak holiday period. The year was rounded off with our fantastic Christmas offer with two major festivals, welcoming thousands of visitors.

2022 delivered a packed calendar with hundreds of events and festivals enjoyed by most of our 11.5 million visitors to the destination.