Even those who aren't partial to a G&T can't fail to have noticed the increasing popularity of gin over the last few years as a favourite tipple for many people. There's now an abundance of choices for the gin-drinker to try, whether it's the classic brands offering flavour variations (sloe, citrus, raspberry, rhubarb or even Christmas flavour anyone?) to the newer brands on the block. Even tonic, the traditional accompaniment, now comes in a range of flavours… mediterranean, clementine, aromatic and elderflower complicate the G&T drinkers' plethora of choices!
Here in Dorset we're no exception, and in recent years new gin producers have launched exciting brands that are rapidly establishing themselves alongside the big names. Exploring the Dorset-based gin producers is fascinating – discovering new local names alongside the established brands.
The first gin distillery to open in Dorset was only in 2013, and saw Conker Spirit work their way into the market. More recently Lilliput Gin, named after an area in Poole, introduced themselves in January 2017, producing their own Dorset Gin which is available in selected local stores. You can also find Dorset crafted gins including Fordington Gin, whose distillery is based in Dorchester, as well as Pothecary Gin.
The upsurge of new brands came about because of changes in Government laws that have allowed gin to be made in much smaller distilleries, so aspiring gin makers could then start producing their own.
Lilliput Dorset Gin emerged from a desire to create a product that captured "the invigorating spirit of summer on the Dorset coast, escaping from the daily dramas of life back to something just a little more real, the simpler, refreshing and timeless beauty of life on the Jurassic coastline of Dorset", said Andy Woodfield, Founder of Lilliput Dorset.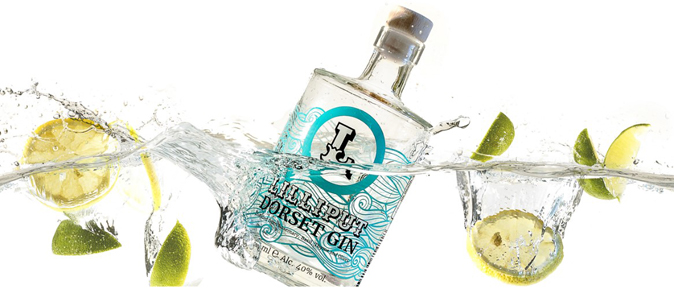 Photo credit: Lilliput Gin
Conker Gin is small batch gin distilled in Dorset from British wheat spirit and New Forest spring water. It's an intricate gin of ten select botanicals, distilled and bottled in Dorset's first gin distillery, nestled in the back streets of Bournemouth.
The local influence continues with the subtle incorporation of the Dorset notes of elderberries, samphire and handpicked New Forest gorse flowers brings bright and refreshing lighter notes to Conker. There's also Conker Cold brew using finest Dorset-roasted speciality coffee blended with their distilled British wheat spirit and a touch of demerara sugar.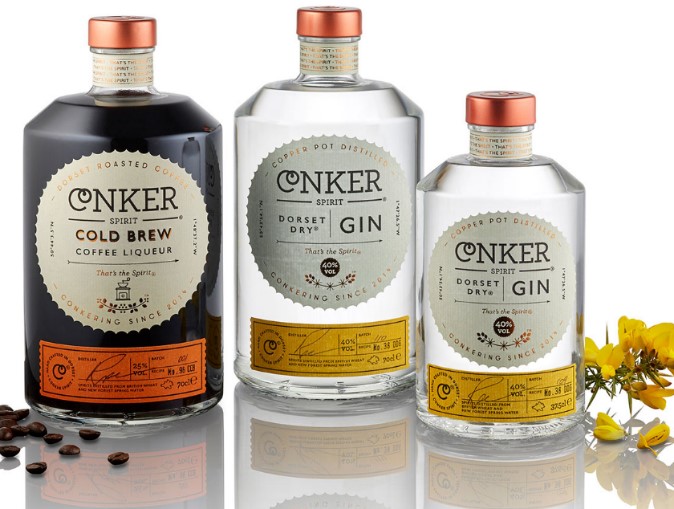 Photo credit: Conker Gin
Fordington is one Dorset's newest gins, created by Ros Nelmes in Dorchester. It's a London Dry Gin with a special twist based on absinthe botanicals. Aniseed and lemon balm add lightness to the gin, ensuring a subtle yet creative taste. Ros also offers gin talks and tasting evenings throughout the county, and further afield on request, in which you can explore the world of gin, including the history of gin, how to make a perfect G&T, tasting different gins and much more. She also offers "G&Tea" parties where a range of sandwiches, cakes and tea can be included with gin tastings.
Pothecary Gin is made in Bournemouth by Soapbox Spirits, a new distillery formed by Lukasz Dwornik and Martin Jennings. Lukasz and Martin say Pothecary Gin is best enjoyed neat or over ice garnished with lemon or orange peel, or a thin-cut half slice of either. Pothecary has also produced a limited-edition Sicilian Blend gin – sounds delicious! Look out for it in local bars and off-licenses.
Local gin festivals are a great way to try over hundreds of different gins, including those distilled in Dorset whilst having a great time. Look out for news about future local festivals in Bournemouth and Poole which both had gin festivals in 2017.
Dorset Cruises have come together with Conker Spirit of Dorset and have organised an opportunity for a fantastic experience, setting off on a cruise where you can relax whilst trying a range of different gins before arriving at a seafood restaurant. You can enjoy a 3-course meal before returning. You can book early for 2018 to guarantee a spot! More information can be found at Dorset Cruises.
Across the county border in Hampshire, Dancing Cows in Pennington, near Lymington in the New Forest, make small-batch artisan spirits and beers using locally sourced grains, fruits and botanicals. Their range includes 'Myristica' gin, described by Dancing Cows as infused with nutmeg; giving a long smooth finish with a hint of heat – apparently, the spice has a calming effect. I can vouch for this having picked up a bottle in Lymington's Saturday street market, absolutely delicious and good enough to drink as a liqueur without tonic, with a Christmassy cinnamon aroma! You can also do a tour of the Dancing Cows distillery, see their website for details. Dancing Cows also produce make rum, whisky, fruit liqueurs and beer – something for everyone in fact!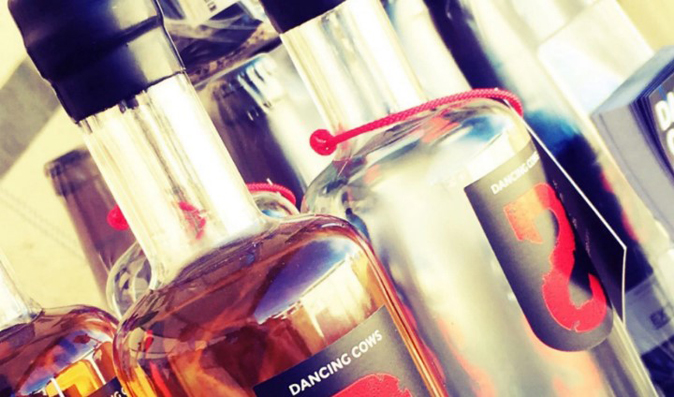 Photo credit: Dancing Cows
Fancy trying some gin in a local bar?
There's no shortage of options in Bournemouth itself, with Level8ight on the roof of the Hilton Hotel offering a view alongside drinks. Revolution Bar in central Bournemouth offering a range of gins and gin cocktails, as well as a huge range of other alcoholic and non-alcoholic options.
Along the coast in Poole, Drift Micro Bar on Poole Quay sounds worth a try, with a big range of gins and great reviews too.
Ginjams in Westbourne also offers 65+ different gins so there's something for everyone to try. Ginjams offer a range of events including 'Chooseday Tuesdays' where unusual gins can be sampled and voted for, the successful ones will be added to the already huge choice on offer! Ginjams 'Afternoon G&Tea' will be £15 a head and will include a pot of tea or a coffee, a slice of cake, a scone, clotted cream and assorted jams. It will be available between 12:00-16:00 Tuesday-Sunday and doesn't require booking (though booking is preferred). It will also include three gin samples from their selection - the customer can choose from Clotted cream gin, Marmalade gin, Strawberry gin, Raspberry gin, Blackberry gin, or Rhubarb gin. Sounds amazing!
The gin samples will come with a fever tree tonic on the side and mixed pots of fruit, i.e. lemon, lime and grapefruit slices and blueberries, strawberries and raspberries. The customer can then garnish their gins as they see fit!
Further north in Wimborne is the Gin House, a retro style bar/bistro with over 100 different gins on offer! They're making a name for themselves locally so definitely worth a visit.
So, whether you've received some 'interesting' new gin as a Christmas present and are about to take the plunge and try it, or you're considering venturing out locally to celebrate the new year with a new tipple, enjoy sampling one of the many gins now on offer, you may just find a favourite!
Geraldine Cetin and the blog editorial team, with thanks to our local gin manufacturers for their help collating content for this blog.
Related
1 Comments