Continental Circus Berlin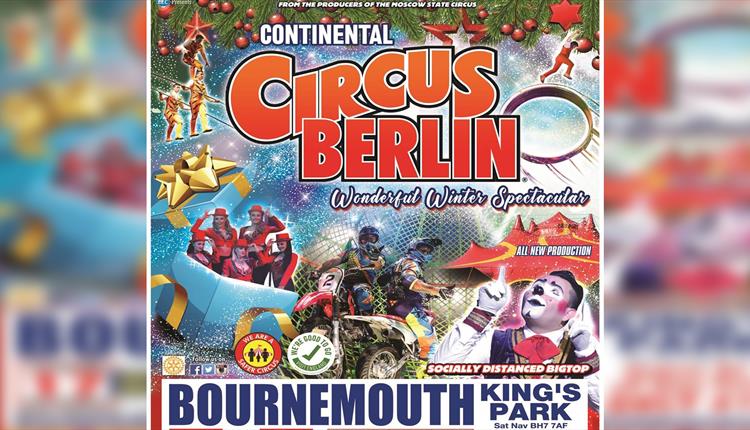 About
***CANCELLED***
From the producers of the some of the world's finest Circuses comes a brand new show specially created for Bournemouth!
Continental Circus Berlin comes to King's Park Bournemouth this 'Holiday Season' with an amalgamation of brilliant Circus acts from all 4 corners of the globe, music & real youthful energy and incorporating fantastic performers from all over the world.
In an age where so much entertainment is unreal, made up of special effects, CGI and has a virtual reality, being pre-recorded, multi-tracked, digitally enhanced or in some other way electronically created – the sheer reality of a live show is a breath of fresh air and the feats and skills seen at Continental Circus Berlin are often so amazing that the Circus-goer literally can not believe their eyes.
From Rola balancing on a motorbike to super fast Las Vegas quick change to the death defying Globe of Death.
Clowns Angelo & Eddy, will guide you through this super show which also includes Beautiful Aerialist's, daring acrobats and the sensational award winning High Wire, performing high up in the roof of the Big Top. An amazing array of acts twisting an age-old tradition for a modern family audience.
Housed in the breathtaking Socially Distanced Theatre style big top, this magical production is brimming with an international cast of breathtaking artistes featuring an unrivalled mix of genuine circus talent from every corner of the Globe.
This Circus is the finest show to come to town under The Continental Circus Berlin banner and this famous name has always been your guarantee of a great show, a rare treat, great fun & with something for all ages.
So make certain this sure fire hit is a definite for your diary.
Don't miss this amazing show!!!
Circus Berlin… King's Park, Bournemouth (BH7 6JF)
Thursday December 17th 2020 to Sunday January 3rd 2021
Book now, call 0203 375 3970 or online at www.circusberlin.co.uk
BOOKING IS ADVISED: Due to Covid Safety measures and social distancing our capacity is hugely reduced so please book in advance to avoid disappointment.
What coronavirus measures are in place?
The big top's capacity has been reduced from 1350 to 550. People can sit in 'family bubbles' of no more than six. A one-way system will be in operation and the big top will be 'sanitised regularly'.
The venue will have hand sanitising stations 'everywhere' and has fans blowing fresh air in to the big top and an extractor fan sucking old air out. While a member of each party must also provide their contact details to comply with track and trace rules with QR codes on display to scan too.
Book Now
Guide Prices
Please visit the website for booking information
Kings Park
Bournemouth
Dorset
BH7 7AF
Opening Times
Sorry, this event has passed
TripAdvisor