BounceBack Dance Festival & Workshops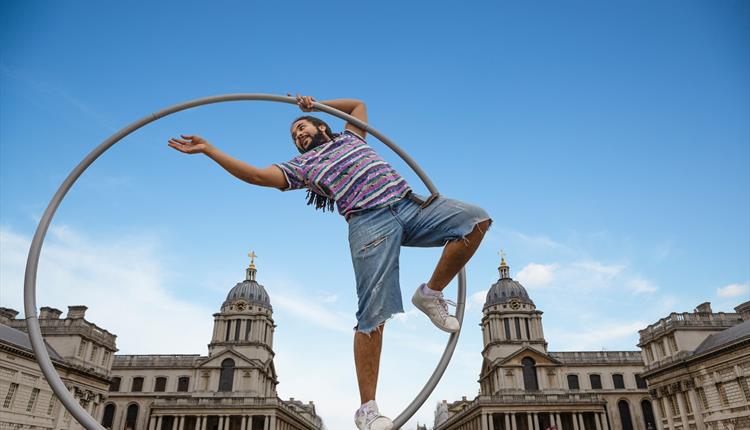 About
Over the summer May half term, we have an amazing lineup for our 'Bounce Back' Dance Festival that is taking part alongside Festival Coast Live. We have seven incredible performances taking place over a week, as we celebrate getting back outdoors for summer and keeping people entertained through dance.
Have a look at the digital program below to get an idea of what is coming up and how you can come to enjoy the performances as and when they go live!
Artists include Joli Vyann, 2Faced Dance, COAST Youth Dance Company, Casson & Friends, Autin Dance Theatre, Simple Cypher & Joseph Toonga from Just Dance Theatre!
#DancingInTheStreets
Sat 29 May 1pm & 4pm | Sun 30 May 1pm & 4pm
Joli Vyann – "Lance Moi En L'Air"
The Triangle, Bournemouth.
Incredible acrobatic circus skills and dance combine to create a stunningly beautiful and elegant performance by locally based dance duo, Joli Vyann.
Sun 30 May 12pm & 3pm |Mon 31 May 12pm & 3pm
New show! 2Faced – "Power"
The Triangle, Bournemouth.
Bursting with energy, athleticism and beauty Power will have you spellbound. Two dancers push themselves to their physical limits – who really holds the power? You can see it for its first public show, here in Bournemouth.
Wed 2 June 4pm & 7pm | Thu 3 June 12pm & 4pm
Casson & Friends- "Preppers"
Horseshoe Common, Bournemouth.
You will have your own personal experience with this extraordinary performance. Combining compelling movement with recorded interviews from members of the UK survival and preparedness community, PREPPERS: The Show is a dance documentary. Exquisitely timed choreography explores themes of resilience and humanity in times of crisis, and offers what we need in order to truly survive. Are you prepared?
Fri 4 Jun 12pm & 4pm | Sat 5 Jun 12pm & 4pm
Simple Cypher "Roll Play"
The Triangle, Bournemouth
A magnificent combination of different dance styles and circus skills is perfected in Roll Play.
The three dancers perform a series of playful interactions which show how small acts of kindness can make a large impact on those around us. A stunning watch.
Fri 4 Jun 10am & 2pm
Poole Museum
Fri 4 Jun – Sun 6 Jun z11.30am & 3.30pm*:
Poole Quay
'Make and Move!' Community Workshops
A family workshop where you can make your own puppet then learn how to move both it and yourself! This workshop is led by a puppeteer and dance artist from Autin Dance Theatre. PDSW will present Autin Dance Theatre's new show 'Out of the Deep Blue' in July. Suitable for children aged 5yrs+. Children must be accompanied by a grown up. Running time: 1 hour followed by a chance to meet EKO.
Find out what you will need to bring… Here
Free entry but advance booking essential. Limited places are available. *check website for times and locations.
Sat 5th Jun 2pm & 5pm
Joseph Toonga – "Born to Protest"
The Terraces, Pavilion Dance South West, Bournemouth.
Born to Protest is part of a Hip-Hop dance sequel choreographer Joseph Toonga is curating to highlight black excellence. It follows the male duet created in 2019 Born to Manifest, illuminating the experiences of young black British men. It was the last performance in our theatre before lockdown. Born to Protest is the next part, bringing seven dancers into a public space to continue this compelling narrative.
Sun 6th June 2pm, 2.30pm & 3pm
COAST Youth Dance Company – "Meeting Point"
Branksome Dene Beach.
Coast Youth Dance Company will perform their work Meeting Point, staged live on the beach groyne at Branksome Dene Chine. The members of the company are talented young people drawn from the Dorset area who are at a pre-college level of training. The performance is a rolling series of solos, celebrating each and every member of the youth dance company, with live music accompaniment by local musician Cam Crook.
Book Now
Pavilion Dance South West
Various locations across Bournemouth & Poole
Bournemouth
Dorset
BH1 2BU
Opening Times
Sorry, this event has passed
TripAdvisor