Stuck for something to do in half term? Kids fed up and hyperactive? We spent a day at Snowtrax, it was fantastic and I can't recommend it highly enough.
With an 11 and 6 year old I sometimes struggle to find things for them both to do but this was a perfect day out! We arrived early as both my two wanted to spend time in the alpine adventure park. It's set in beautiful woodland reminiscent of ski resorts I've been to in the past, albeit a very long time ago! The kids burnt off some energy in the alpine fort and hid in the gigantic almost life-sized pirate ship, there is a great zip wire, trampolines and plenty for toddlers if you have little ones in your party.
We were given a time slot of 3pm and turned up promptly for further instructions, the kids picked out their ski bobs and helmets with the help of delightful and very patient staff, they were shown how to steer and sit on them safely. I was nearly tempted myself but I could see my friend out of the corner of my eye drinking a rather inviting coffee so I left them to it. My 11 year old flew down and with a bit of encouragement and after watching her brother a few times my 6 year old eventually joined in, racing down together with water spraying out behind them they flew courageously down the slopes, reaching the bottom with a skid and dragging their sleighs back up to repeat it all again.
I sat down and enjoyed a fab cappuccino in the café exhausted from just watching them and took in the tree top views. I thought they'd be too exhausted after the 15th descent but, no they were loving every second, with rosy cheeks and huge smiles across their faces I was suddenly filled with joy that my 11 year was not attached to a computer screen.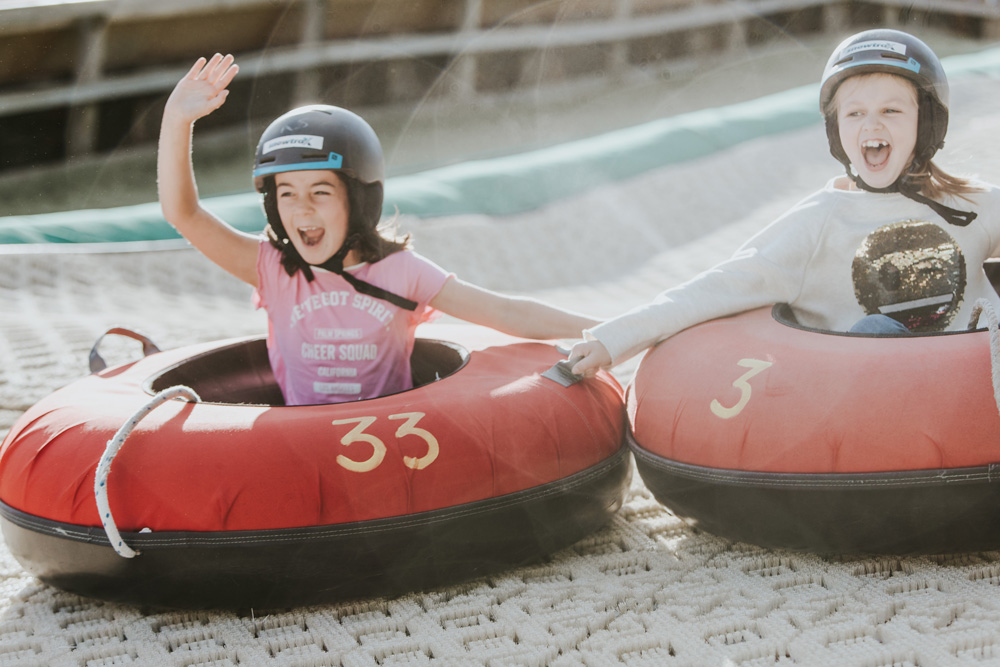 Both children were by now hot and sweaty and ready for a drink and snack to revive them so we grabbed ice cold drinks and some snacks and had a bit of a break. In the winter they have a roaring fire and sell everything from wine to hot chocolate and a wide variety of alpine treats to eat as well as a very well priced children's menu. We had delicious nachos, juice and tea and then went back out into the fresh air.
Next up it was onto the ringos, grabbing one each my kids ran off in anticipation and stood in the queue, they were given advice on how to use them safely and sat deep in each doughnut shaped ring ready to launch themselves from the top of the slopes. The lights went green and they skidded beautifully down the hill. Trekking back up to the top with the help of a rope. It was wonderful to watch them enjoying themselves so much with a newly found fun activity. When it was time to finally finish there were moans of 'we don't want to go home' and 'when can we come back again?' And best of all for me, 'can we ski next time?'. Snowtrax, The Lawrences will be back but on skis next time! And that's a promise.
Related
0 Comments