For some the mention of a vegan menu will conjure up images of tasteless tofu, plant-based ingredients masquerading as burgers and mountains of uninspiring vegetables…but *sharp intake of breath* vegan restaurants and cafes are taking the culinary world by plant-based storm and shaken up the need for a traditional meat and two veg!
Believe it or not, Bournemouth has over 30 restaurants, cafés and eateries with dedicated vegetarian and vegan menus or options – there's so much choice you really won't have to worry about finding somewhere to eat.

Located in Bournemouth's Triangle area you'll find Mad Cucumber, the resort's first 100% vegan café and Flirt Café Bar with vegan and veggie options. Mad Cucumber are, without a doubt, masters of the plant-based menu – made from scratch their food is delish and dishes including breakfasts, stews and pastas could easily tempt any committed carnivore!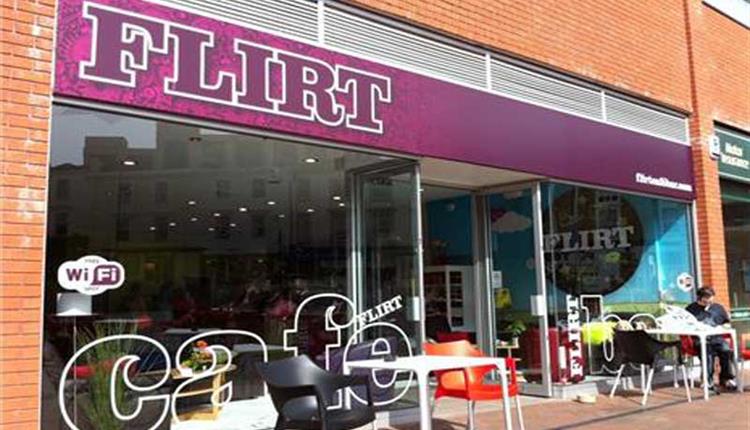 Exterior photo of Flirt Cafe in Bournemouth Triangle

A few doors down, you'll find Bournemouth's trendiest vegan addition, Twelve Eatery – the only organic plant-based restaurant in Dorset and the UK's first Organic Bar to make cocktails with fresh cold-pressed juices. The restaurant is utterly instagrammable with the interior design perfect for those wanting to bring a bit of class to their grid. The food is DELISH with exquisite world class dishes made with the finest and freshest ingredients, highlights include the 'B-Twelve Burger' and 'Truffle Mac 'n' Cheese' (excuse me while I run up to the Triangle). As mentioned, you can enjoy vegan cocktails all made with organic and fairtrade goodies which are free from refined sugar – did someone say espresso martini?

Moving to the town centre, there's The Stable, (great pizza menu) and if your foodie fave is Mexican then a visit to Ojo Rojo is a must – their dishes are creative, inspired and lip lickingly divine. I highly recommend the chickpea chilaquiles with boozy cowboy beans, vegan cheese, shards of tostada, salsa pomegranates and coriander yoghurt…HMMMM!! (if you need any more convincing, my tummy is rumbling as I type!)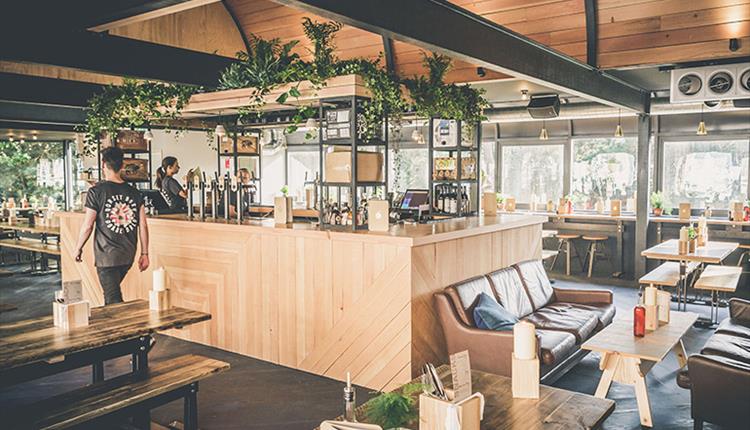 Inside The Stable restaurant

In Bournemouth's neighbouring suburb of Boscombe you'll be welcomed with big vegan arms! Boscombe is home to an army of inspiring vegan and vegetarian eateries. Kind Kitchen, Crooked Book, Café Boscanova, with its great chilled out vibe and inspiring interiors, and the latest addition to the list of vegan eateries, the fabulously named Dirty Vegans – oooooh if you want a good burger, this is the place to eat!

Back to Bournemouth the little bro of café Boscanova is South Coast Roast on Richmond Hill – I challenge you to throw all your vegan coffee preferences at them, there's nothing they don't know!
For a moment of calm, take a step back in time, relax and soak up an art deco revival at the Cosy Club, rich reds adorn the walls and there's an eclectic mix of interiors and stunning light fixtures (I'm always side tracked by the décor). There's a fab dedicated vegan menu - choose from brunch, tapas, mains and puddings, you can also enjoy a cheeky glass of vegan prosecco!
Heading to the seafront, Aruba at Pier Approach offers vegan options and Urban Reef, at Boscombe Pier has delicious dishes made with fresh, seasonal ingredients.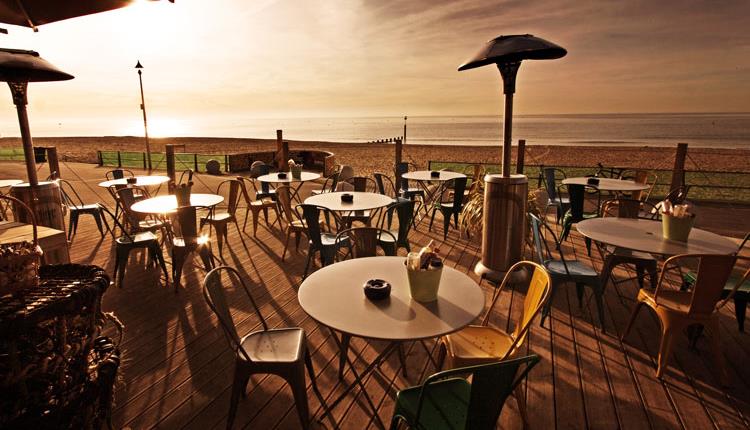 Sunset over Urban Reef's terrace
Blimey, if that's not enough you can even enjoy vegan twists on seaside favourites including ice cream and cream teas!

Vegan shmeegan – I'm in!

Related
0 Comments