Four 30-somethings enjoy a night out in Bournemouth with a festive twist!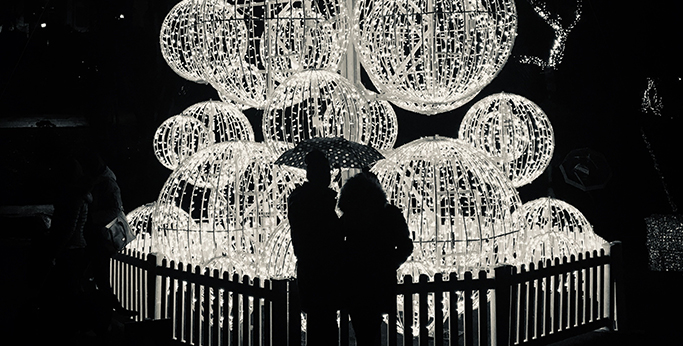 Having been at the magical launch of the spectacular Christmas Tree Wonderland I was eager to share it with my husband and our mates, so we planned our annual festive pilgrimage around a trip to the bright lights of Bournemouth. However, with train strikes in the offing and storms in the forecast, I was starting to worry that our hopes of venturing beyond the boundaries of far-flung West Dorset might be thwarted…
We set out early in the evening, in more layers than a Mary Berry chocolate cake, and travel was relatively stress-less with the strike timetable available online and only 10 minutes difference from our schedule.
We'd hoped to take a crisp, Christmassy stroll past the icicle and polar bear illuminations at Lansdowne. Alas, to the detriment of my step-count, the torrential rain necessitated a taxi ride. No matter – buses and taxis are readily available at Bournemouth Station and the driver even took us past the lights at Lansdowne. Since they're on the roundabout, we arguably got a closer look from amongst the traffic than if we'd been on foot!
We were due to kick off our evening with a ride on the big wheel in Pier Approach but, because of the rain and high winds, the shutters went down quite literally as we stepped out of the cab. It was disappointing but completely understandable.
It was a whistle-stop tour, on account of the relentless weather, but the Lower Gardens were still packed with smiling families and some pretty resilient kids in waterproofs.
By this time, we were beating a path to the Alpine Lodge in the square. On such a hideous night, it looked so inviting and we were glad to find a cosy corner seat upstairs, next to a heater, a decorated tree and four ladies from Newport rounding off a girlie weekend away. I got talking to them over a scrummy spiced toffee apple cider and they'd had an absolute blast, eating and drinking together against the backdrop of Bournemouth's brand new illuminations. One of the ladies told me, in a lovely, lilting Welsh accent, that she was 'absolutely blown away' by the lights.
Lost in a heady, sugar-induced haze, we were almost late for our booking at Mr Mulligan's –adventure golf where drinks aren't restricted to the 19th hole. It's an indoor attraction in the BH2 complex, so perfect for fair-weather golfers like myself.
Being a Saturday night in the centre of town, it took a little while to get served. It wouldn't have bothered us, but we had our next activity lined up and didn't want to rush the experience. So, I spoke to staff who were friendly and flexible, and simply moved our playing time. It meant we could enjoy dinner and return later to play our nine holes.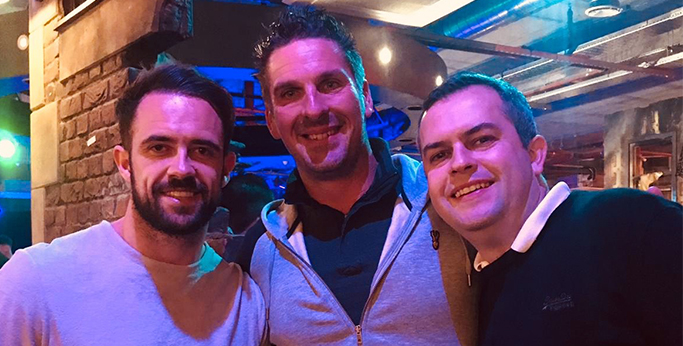 A few enormous pizzas and generous bowls of chips later – with the addition of an unexpected celeb spot (my husband could barely contain his excitement at grabbing a selfie with footballer, Danny Ings) – we headed the short distance across the gardens to the outdoor SKATE rink.
It was still raining.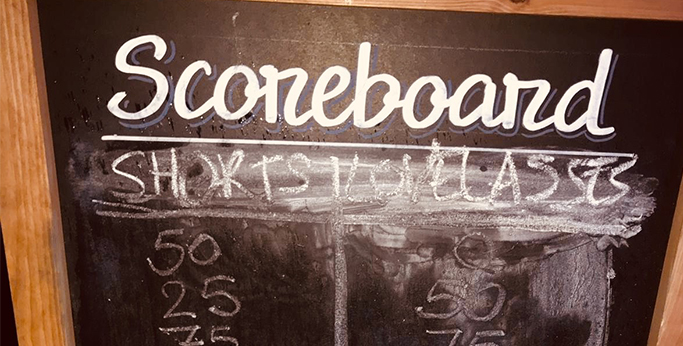 We were booked in for a game of Gliders and not sure what to expect. As the website suggests, it was like curling (well, what I know of it anyway) but without the 'brooms' (proving just how little I do actually know about it). We had a blast. Maybe I'm biased because we split into two teams and my husband and I were, frankly, awesome. But even in the face of their defeat, our friends enjoyed it too. And rain didn't stop play – we had to keep our parkers on but were under shelter while waiting for our turn, fuelled by a glass of mulled wine.
After a full hour of high scoring stones, we were almost tired of trouncing our companions and headed back to Mr Mulligan's with hopes of continued sporting success.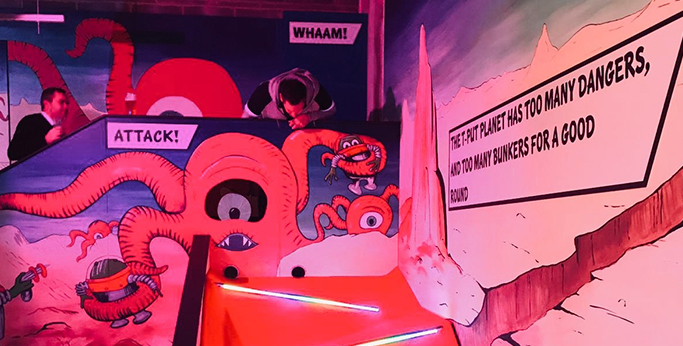 But no, I was all over the place! There were balls flying everywhere and hilarity ensued. The courses are cleverly designed and a lot of fun, with convenient ledges for your drinks. The only disappointment was that we didn't get around 18 holes – we could only manage nine before heading to the station – but it was the mark of a good night out. It left us wanting more and we're already planning another visit in the New Year to finish what we started (giving me time to get some practice in on the driving range, since I was an embarrassment)!
The rain had finally stopped as we retreated to darkest depths of rural Dorset on the last train, but we barely noticed. We'd long since given up on letting it spoil our festive fun!
Credit - Grace Lovelass, Bournemouth Tourism
Related
5 Comments