In celebration of British Sandwich Week, guest blogger and WI cream tea connoiseur, Sandra Housego, takes us on a tour of Bournemouth's best seaside sandwich and scone suppliers in a series of blogs, continuing with the Ventana Grand Café at the Cumberland Hotel...
"Is my hearing going or did you say you were going to get some Cumberland sausage?"
"Bye then" I mumbled as I pulled my hat further over my ears – sometimes Mr H and I don't see ear to ear.
Sally is generally an outgoing and vivacious person, but she was in need of a bit of a lift, having endured some difficult times. The doctor's surgery for most of us is a cheerless place and the receptionists have a reputation for being curt, efficient and soulless. Imagine turning up with an ailment and being greeted with a broad smile, a chirpy quip and a warm welcome –that's Sally, not at all like the stereotype.
The façade of the Cumberland Hotel loomed before us - an impressive example of Art Deco design and an unexpected surprise for us. As we admired the beautiful décor inside, a lingering hint of Christmas, and soaked up the perfect sea view, we knew that this would help to steer us through the dull days of January. An exuberant setting for an exuberant friend.
We sank into the cushioned chairs in the Ventana Grand Café and toasted cheers to the New Year with a prosecco. "It would be rude not to" said Sally, the barman rushed across and offered to take a photo after watching me contort myself in a bid to take a selfie – I have numerous snaps of my right forearm.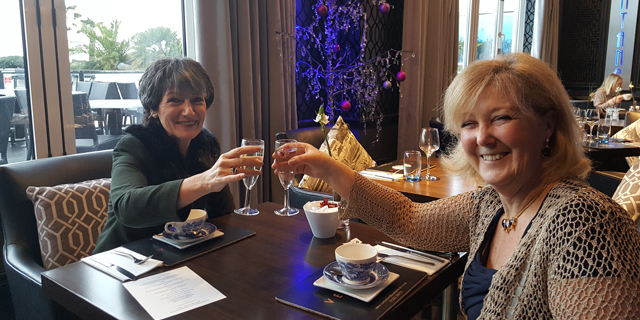 The chrome cake stand, though modern, reflected the same style and proffered an array of beautifully cut finger sandwiches, cakes, desserts and scones, begging to be eaten. Destroying the work of art presentation was difficult, but it had to be done.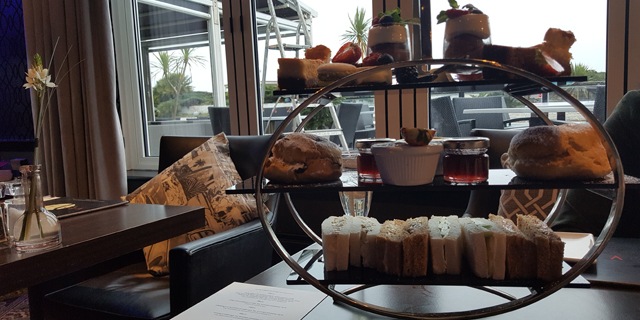 This was a truly sumptuous and scrumptious experience.
It was a shame neither of us could remember what the car looked like and whereabouts we had left it. After leaving in grand style, we received some strange glances from passers-by as we walked to and fro like headless chickens for several minutes, before regaining our composure once Sally had located it.
"Did you get the sausage?"
"Yes, but I've eaten it" – well, if you can't beat them.
Related
1 Comments