In celebration of British Sandwich Week, guest blogger and WI cream tea connoiseur, Sandra Housego, takes us on a tour of Bournemouth's best seaside sandwich and scone suppliers in a series of blogs, continuing with Brasserie Blanc at the Highcliff Marriott...
"Christmas Shopping? We're only half way through December, there's still nearly two weeks to go." Mr H at his most naïve, he hasn't a clue regarding shopping timescales.
"Bye then", I giggled as I pulled him closer and kissed him under the mistletoe.
It's my experience that shopping with friends is a waste of time, they hold you back, walking at snail's pace but making sudden lurches for the door when they see you stop to look at something that is of no interest to them.
There is, however, one exception to this rule, Cheryl. We have known each other for forty years. If something doesn't suit me – she tells me. If she thinks I am being extravagant – she will caution me, and then say "no forget what I just said, buy it", she rushes around like a whirlwind and between us we always end up with bargains galore.
Arriving at Brasserie Blanc, the Marriott Hotel, we fell into the arms of the barman, Guiseppe who helped us carry our bags to a table with a breath taking sea view in brilliant sunshine. The bar was perfect for two tired, weary, cold and hungry shopaholics. We chatted as if we hadn't seen each other for months when in truth it was only days since we had last got together.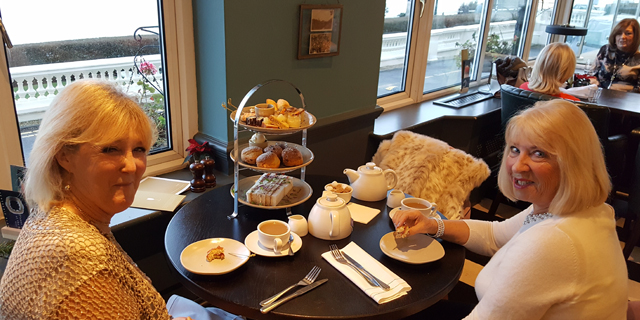 The effect of the sun on the sea eased us into a relaxed state, so much so that I very nearly nodded off. Fortunately, the arrival of Gabriel, the really friendly chef made me sit up and take attention. He chatted with enthusiasm and pride about his work and creations, mini brioche rolls filled with smoked beef and horseradish, white chocolate truffle lollipops in forest fruits compote and the lightest scones I have ever tasted (I am now the proud possessor of a useful tip on how to make my scones as light and fluffy as his).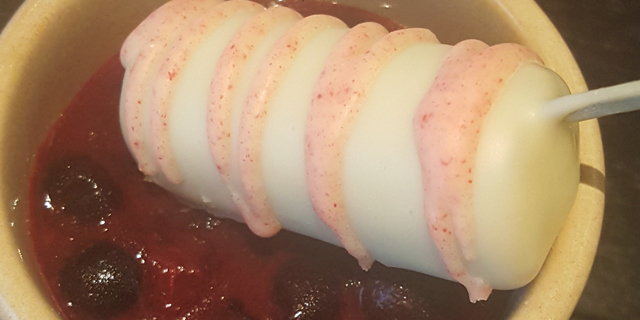 The crème brulee was exceptionally rich and creamy, when Gabriel said he was from Catalonia I realised why, it was very similar to Crema Catalana a favourite of mine on my trips to Girona with Mr H.
Refreshed, we left, promising to return. Snuggled up in our furry hats and coats, we took a magical walk along the beach, admiring the twinkling lights of Bournemouth and the starry sky… laden with our shopping.
"Did you buy anything?
"Nope, I've just taken up a new career as a bag lady"… give me strength!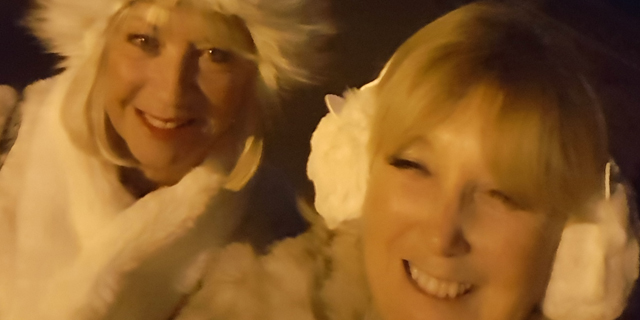 Related
0 Comments