In celebration of British Sandwich Week, guest blogger and WI cream tea connoiseur, Sandra Housego, takes us on a tour of Bournemouth's best seaside sandwich and scone suppliers in a series of blogs, continuing with Level8ight - The Sky Bar at the Hilton Bournemouth...
"Surely, not another Afternoon Tea already?" I detected a hint of exasperation in Mr H's tone.
"Bye then", I called as I pulled my scarf more firmly around my neck.
Ginny and I were wrapped up (it was December!) - the weather was really taking a grip now.
We met at a WI skittles match, I would like to think that speaks volumes, but I can assure you it tells you nothing about either of us.
Ginny moved to Dorset a year ago, I have only been here sixteen years, so we are both newcomers, hailing originally from London. We were in a 'girls about town' frame of mind, so headed for Level8ight - The Sky Bar at the Hilton.
This was the perfect place for feeling glam and pampered, especially as we had been skittling the previous evening and were aching from 'sticking up'. A high rise view over the town centre was redolent of top floor restaurants and bars in the Capital – but they don't have that wonderful glimpse of the sea!
We opted for a glass of Prosecco to start…
The Tea Stand was made of glass as was the tea set, sparklingly modern reflecting some of the ingenious concoctions, such as ratatouille finger sandwiches and a fantastic chocolate orange bombe sitting nicely alongside the traditional fare. I chose Persian Earl Grey to sip as I scoffed, it was delicious.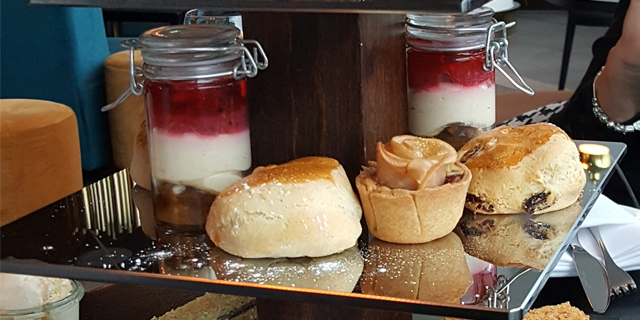 Before we left and as it was the festive season we opted for a cocktail 'Tea's the Season' Gin, Ginger Tea, Grand Marnier, Lemon Sherbert and Clementine syrup – served in an over-sized bauble placed in a large glass with two straws… sharing a cocktail with a friend will never be the same again.
"How did it go?" enquired Mr H
"Absholutely Fabuloush dahling" I slurred!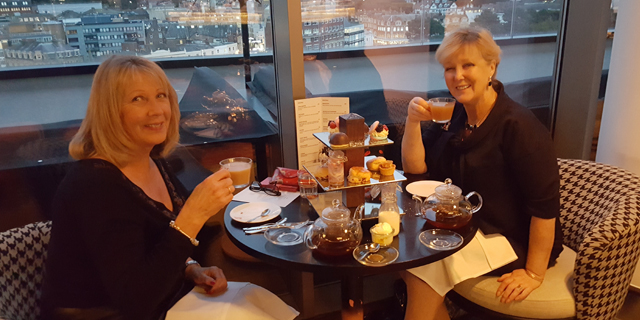 Related
0 Comments