In celebration of British Sandwich Week, guest blogger and WI cream tea connoiseur, Sandra Housego, takes us on a tour of Bournemouth's best seaside sandwich and scone suppliers in a series of blogs, starting with The Green House Hotel...
"Where are you off to?" said Mr H. This sudden break from searching his i-Pad for golfing tips was so unexpected that it had the effect of causing me to smudge the nail I was painting.
"Bye then", I shouted as I pulled the front door behind me - no, not literally.
We had already endured some bitterly cold weather, little knowing that there was worse to come.
Memories of long, lazy days of summer, sipping tea and scoffing scones were fading fast, but I had a plan and this was the day it was being put into action!
My companion for this inaugural trip was no less than the County Chair of the Dorset Federation of Women's Institutes. I had met Marilyn on several occasions and this was an opportunity to get to know her better and to hear about her first year 'in office'.
We were going to Bournemouth's Green House Hotel, to take afternoon tea in their Arbor Restaurant, and prove that sitting outside in blazing sunshine was not the only way to enjoy one of this country's favourite pastimes.
Our coats and hats were whisked away and we were led to the restaurant where the WOW factor took immediate effect - a massive tree seemed to be growing in the centre of the room (it was Christmas at the time)! Quirky, contemporary and fun, we loved it.
The food was essentially traditional; assorted finger sandwiches, smoked salmon, cucumber, freshly made scones, plain and fruit, homemade strawberry jam and lemon curd with clotted cream, but, there was a 'twist' of flavours in the pastries and cakes; ginger cheesecake, chocolate tart with peaks of meringue, chocolate spiced cake with praline decoration – served on a customised carved wooden stand.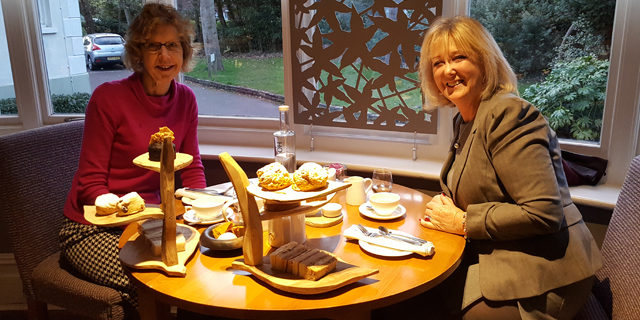 All accompanied by an interesting and varied menu of a dozen teas ranging from traditional English through Oriental and fruit varieties.
We were impressed with the adaptions made to meet dietary requirements and in fact the innovative substitutes, particularly the delicious vegan cake, lost none of the variety or taste experience.
I discovered that Marilyn was thoroughly enjoying her role and responsibilities and that a highlight had been attending numerous events throughout the County's WIs to celebrate the Federation's Centenary. This gave her the opportunity to meet members of all ages and length of time in the WI and to share their satisfaction in belonging to the Organisation.
I was fascinated by her travel tales, especially one hair-raising account from a trip to Russia in the seventies.
We spent a very leisurely couple of hours in a welcoming and soothing environment where the staff were attentive but not obtrusive...unlike the bitter wind we faced outside.
"How did it go?" said Mr H.
I handed him a little cardboard box containing a cake and a scone..."Superb, but I couldn't finish it all."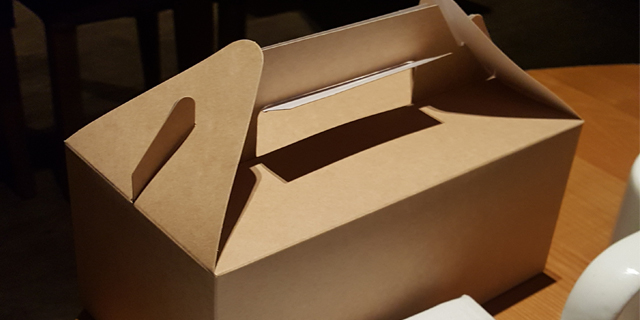 Related
0 Comments