Entertaining two lively boys aged seven and five can be quite a challenge at times, so I looked at bournemouth.co.uk for inspiration. The site is full of great ideas for activities in around Bournemouth in all weathers. Based on my research, we drew up a shortlist to fill five days with fun and adventure, while staying at the Bournemouth Beach Lodges.
First up was a trip to Mighty Claws Adventure Golf. Situated at Iford Golf Course behind Tesco, this fantastic mini golf course is a must for dinosaur fans – you can't miss the giant T-Rex as come you travel down the driveway. The course features various animatronic dinosaurs, an erupting volcano and waterfall, with 18 challenges to keep everyone entertained and interested.
There was a great choice of club sizes to suit everyone and different coloured balls perfect for play and spotting if you need to retrieve them from the water, which we had to do several times.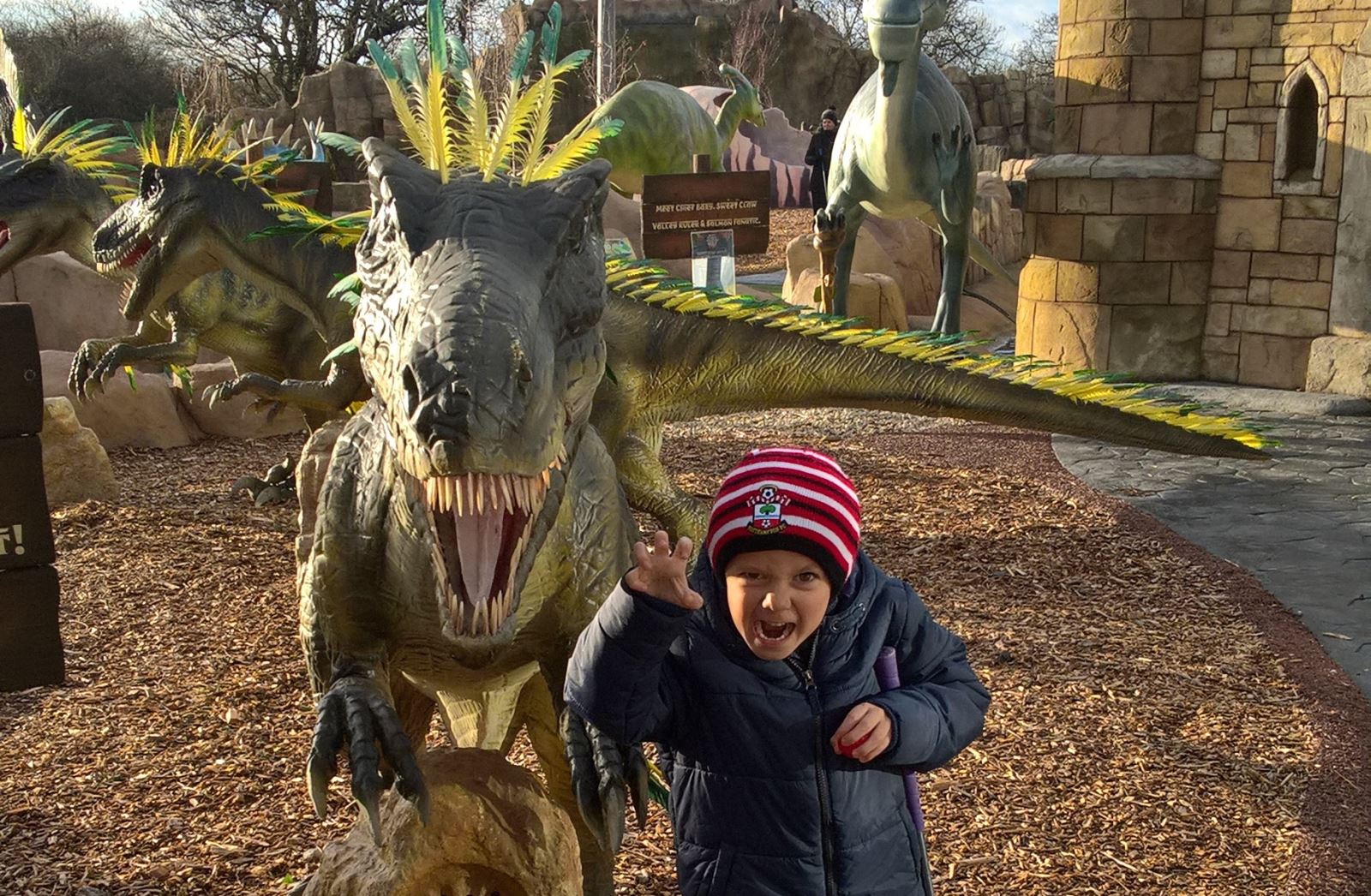 After a 'hole in one' and an hour's play we headed to the clubhouse for lunch – delicious wood oven baked pizzas and hot chocolate.
Next stop was the Oceanarium, due to the wet weather. We hopped on the land train from the Lodges and headed down to Bournemouth Pier for some aquatic action. The Oceanarium is home to hundreds of fish and creatures from across the globe. It's perfect for any Octonaut or Nemo fan. The boys enjoyed watching the otters and turtles being fed, as well as chatting to the keepers. Our family favourites were the penguins, who were willing to entertain with their dramatic underwater routines.
Top tip: once you've bought a ticket, you can return as many times as you like during the day. Perfect if you want to pop out for lunch or a beach stomp, then head back for some more fishy fun.
On day three the weather was not on our side, so we headed indoors to Rock Reef for a climbing adventure. There are 28 clip 'n' climb indoor climbing walls – enough to test any climber. George decided to brave the vertical drop slide and a high line aerial obstacle course, as well as the Pier Cave. For older thrill seekers, there's the PierZip. But as someone who fears heights, I stayed away.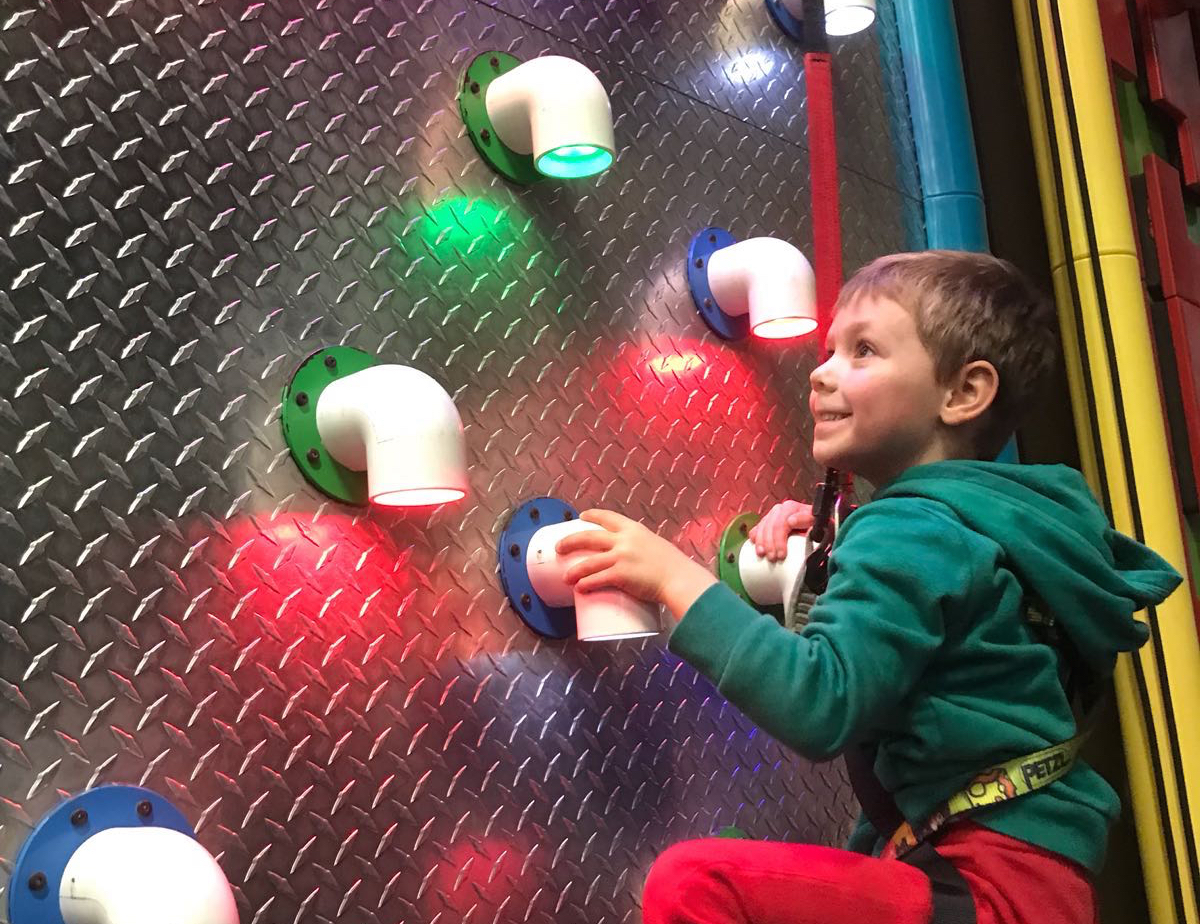 After an hour of climbing, the boys were exhausted and starving, so we headed into Key West for some lunch. Over lunch the rain eased, so we wandered to the lower gardens for a round of mini golf before heading back to the Lodge for a spot of storm watching and more hot chocolate.
Next on the list was Splashdown at Tower Park. Home to 13 indoor and outdoor flumes, as well as three splash zones, there's something to cater for the thrill seeker and those who prefer something more gentle. George loved the Infinity flume and Billy enjoyed the Mississippi Drifter. After two hours of water play and flume action, we enjoyed lunch at TGI Friday's.
Our final activity was a visit to Moors Valley. We packed up a picnic and headed out to the country park, about 10 miles north of Bournemouth. On the recommendation of a friend, we headed into the visitor centre to pick up a trail map and purchased the Highway Rat Activity Trail pack for £3.
Moors Valley is a great location for children to run free – perfect for two energetic boys! We followed the play trail and spotted Highway Rat activities along the way. There are over 11 play areas, to climb, slide on and swing on – so, something for every age. And if that doesn't tire out your kids, then there are four family cycle routes to enjoy. For the more adventurous and the monkey in the family, there are the Go Ape Treetop and Segway adventures. For Gruffalo fans, you can take a selfie with the amazing wooden sculptures near the picnic area.
We had a fantastic day, letting off steam and getting plenty of fresh air.
After an action-packed five days, the boys returned to school with lots of stories and tales of bravery to share. Meanwhile, I came back to work for a rest!
Related
0 Comments