Move along please. Nothing to see here. Just four grown adults off to watch a pantomime.
In fact, I'm pretty used to booing and hissing with the best of them - I try to catch a local panto every Christmas. But I'm sure some members of the team were sceptical about how much they'd enjoy Jack and the Beanstalk at Bournemouth Pavilion. Consider our horizons broadened. We loved it!
I'm sure the show was packed with impressive lighting effects that may have passed us by since we were so absorbed in the action but as we sat in our seats waiting for the curtain to rise, I was especially taken with the beanstalk pattern reflected onto the walls of the Pavilion Theatre. It helps to have an active imagination but I felt a little bit like I was tangled in the stalk itself.
Naturally, a lot of people – mainly dads and my contemporaries – were keen to see Rachel Stevens take to the stage as Fairy Sweet Pea and we didn't have to wait long. The Fairy appears early in the story and, traditionally, acts a thread holding the narrative together. The S Club references were anticipated and welcome, providing some of the heartiest sing-along moments.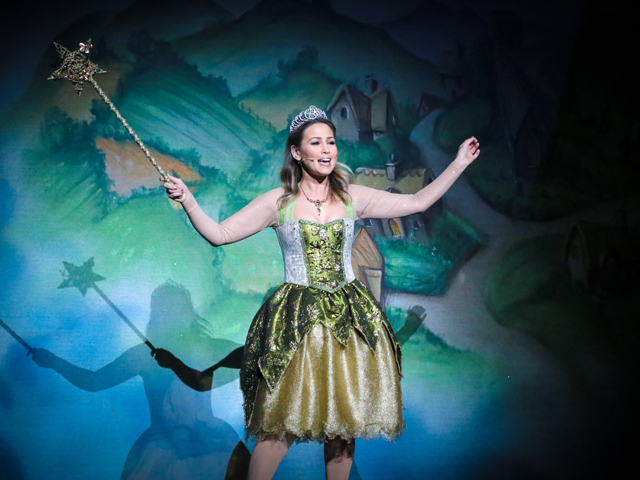 Rachel Stevens as Fairy Sweet Pea
I'd read in the promotional material that Noel Brodie was "back by popular demand" and, not having seen the Bournemouth panto before, wondered just how popular this demand could be. We were all very pleasantly surprised – as Simple Simon, Noel was simply perfect! He was relevant, observant, energetic and, of course, very funny.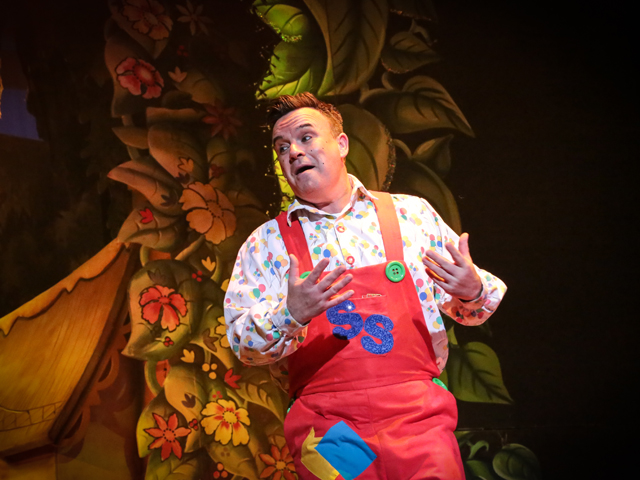 Noel Brodie as Simple Simon
Jamie Steen's Dame Trott was another surprise. We can all envisage a typical pantomime dame and normally they contribute little more than gaudy costumes and saucy innuendo. As expected, Ms Trott gave us plenty of these – and special mention goes to wardrobe for some of the most ingenious creations I've seen – but I also found her genuinely pitiable and it was hard not to sympathise with her poverty-stricken plight. This was further compounded by Daisy the cow, who was strangely adorable. Again, the quality of the costumes helped to increase her aesthetic appeal and (spoiler alert!) it was a struggle not to be moved as she trundled off to be sold at market with her little suitcase in tow. *Sniffs*.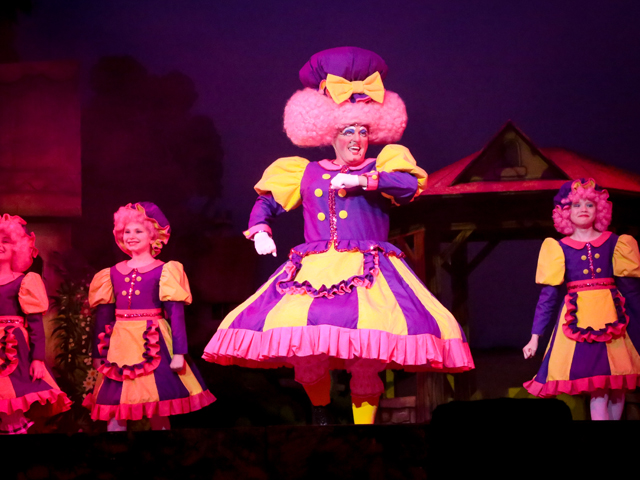 Jamie Steen as Dame Trott
Integral to the action, the beanstalk itself was very effective and, with promises that an interactive adventure would ensue, we headed off to seek out our "safety goggles" (3D glasses) in the interval. I'm not usually a big fan of 3D effects but perhaps this production can claim sole responsibility for my conversion. It was fantastic and came at just the right time. We were weary, having headed along straight from work, not to mention all the little ones who are at the end of a busy and active day. This new dimension in the second half resulted in some breathtaking moments, eliciting positively primal screams. Well I screamed, even if the five-year-old lad next to me failed to bat an eyelid!
Speaking of children, the young ladies who formed part of the dance troupe were a delight. They moved with conviction, precision and professionalism beyond their years.
Of course, there was a king, a princess for Jack and a baddie – delightfully named Fleshcreep. Each of them got the come-uppance / happy ending they deserved culminating in a sensational finale where set and costume designs came together with spectacular results. Having been on a journey through fairyland and a rollercoaster of emotions, we left the theatre dazzled and, frankly, exhausted… and all because of a few measly beans. Who knew?!
Grace Lovelass and the Blog editorial team.
Jack and the Beanstalk is on at the Pavilion Theatre until 1 January 2018.
Related
0 Comments