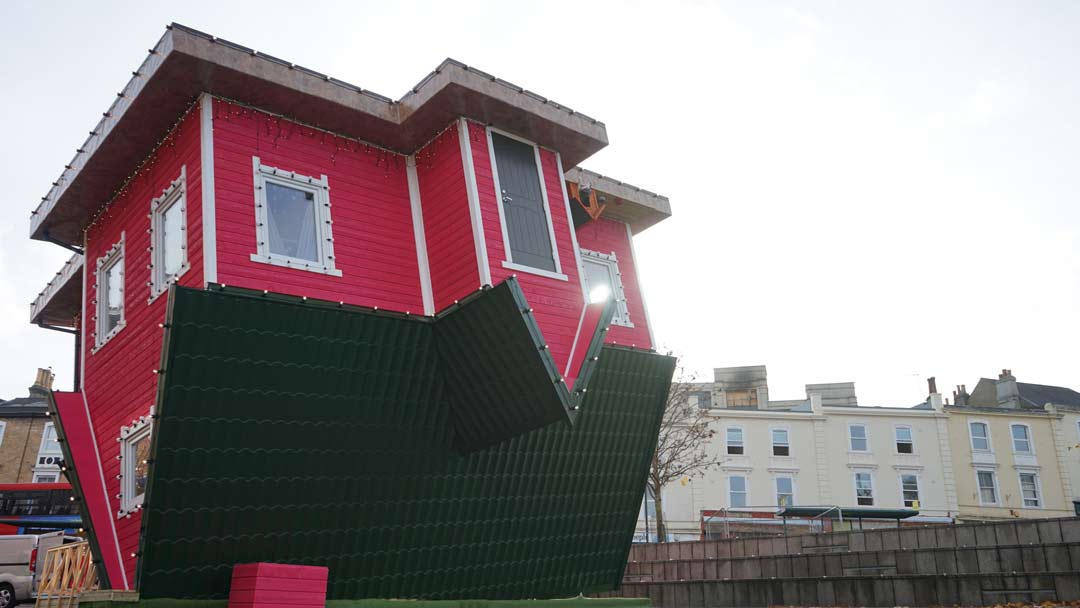 This half term, we've come up with a list of fun ways to spend your week. Whether your kids have boundless energy for outdoor adventures or an insatiable thirst for knowledge, there are ideas for things to see and do in and around Bournemouth.
Topsy turvy treats
Go head over heels in the heart of Bournemouth with a visit to the Upside Down House in the Triangle. A hybrid of street art and experiential entertainment, this is the first of its kind in the UK and gives visitors a zero-gravity illusion experience in a safe and family friendly environment. Walk on the ceiling, go downstairs to go up, do handstands on the sofa without taking your feet off the floor and let your imagination run riot.
1, 2, 3, fore!
For the budding golfers in your family, swing, cut and slice your club through 18 holes of prehistoric thrills and near life size dinosaurs. A fiercely entertaining day out for everyone from little raptors to ancient fossils. Whether you're 6 and a half or 65 million years old, Mighty Claws Adventure Golf turns a fun day out into an unforgettable adventure. Battle your way through ancient landscapes, discover a magical kingdom and play your part in the story of King Bary and the Sweet Claws.
Underwater adventures
Bournemouth's Oceanarium is full of fun above and below the waves. Home to hundreds of awesome creatures, come face to face with stunning sharks, giant sea turtles, graceful stingrays, dwarf crocodiles, colourful clownfish and the very cute, otter family. Whatever the weather, there's so much to sea and explore! And with penguins too, you can get up close and waddle among these playful personalities. Fall head over flippers in love as they dip and dive in their brand new beach retreat!
Mad scrambles
RockReef is an all year, all weather fun activity attraction located on Bournemouth's iconic pier. Inside, you'll find 27 individually themed climbing walls, a stairway to heaven climbing challenge and a highline aerial obstacle. If you make it around the first time, you can take on the challenge again – blindfolded! There's a pier cave with lots of twists and turns and even hidden ball pits!
For the more adventurous, test yourself on the vertical slide or the leap of faith!
Wonder no more
Dorset's multi award-winning family theme park, Adventure Wonderland, with its great range of rides and attractions is the perfect spot for an unforgettable day out. Family favourites include Jungle Falls log flume, Wild Bill's Runaway Train, The Ghostly Galleon and the Dance with the Stars marquee. The park takes its inspiration from Lewis Carol's timeless classic, Alice in Wonderland and children love getting to know the resident characters Alice, Mad Hatter, Queen of Hearts, Mr Rabbit and the cheeky Cheshire Cat. There's also the ever-popular Cuddle Corner petting area and a vast indoor Aztec adventure play centre, Wild Thing! Plus, new live shows in the Happydrome Theatre.
Crafty crockery
All Fired Up ceramics café is the perfect place for families to enjoy time together and for everyone to be creative. Drop in and paint one of the many pieces of pottery on offer. Be tempted by freshly made sandwiches and paninis, delicious local cake, ice cream and freshly ground Italian coffee – you'll have found the perfect place to relax.
Animal magic
Farmer Palmer's is a fabulous farm park where young adventurers can frankly 'let their hair down' without older children around to stifle their enjoyment! Designed specifically for children eight years and under, it is a day-full of entertainment and represents great value for money. There are lots of different animal activities, one every half hour, which means you can mix these with the many dedicated and natural play areas where the children can easily stay occupied for hours. There's milking, bottle feeding and even pig racing which is very exciting! Take a ride on the uniquely bumpy tractor-trailer ride in the sun or play indoors if the conditions are inclement.
And that's not all! We've cherry-picked a few of the activities and attractions that we think you might enjoy, but you can find plenty more here. So, discover, experience, be inspired and most of all, have fun!
Related
0 Comments