Zip-lining off Bournemouth Pier with Pier Zip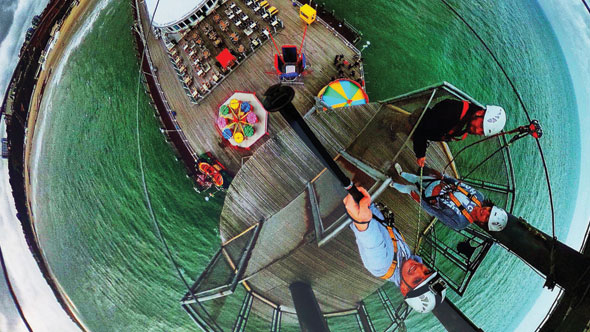 Best view in Bournemouth - we are ready to go!
This very unique pier-to-beach dual zip line launches you 250m from the tower on Bournemouth pier to the beach front in exhilarating fashion. After getting kitted out and briefed in the RockReef activity centre, the climb up the spiral staircase of the tower gives you glimpses of the adrenalin packed ride you are about to experience.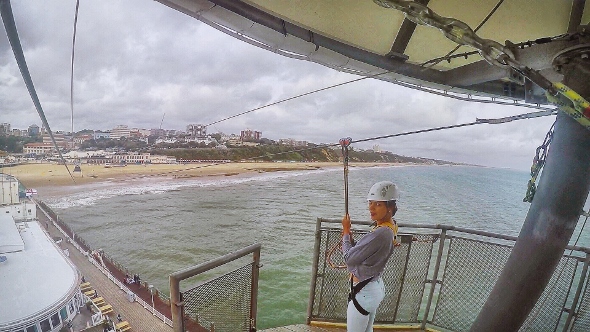 Apprehension or excitement you decide?
After a last check of the wind conditions for safety, you step off the top of the tower and sail over the boardwalk below and out across the ocean. The rush of exhilaration combined with the beautiful views out across the ocean are really quite something.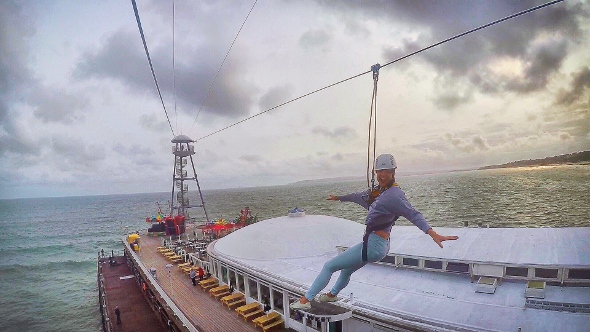 Amy in full flight
This thrilling attraction is unique to Bournemouth, and makes a brilliant first activity to start your visit to our stunning South Coast seaside town – landing you right on the golden beaches. Best followed by drinks or lunch in one of our amazing seaside cafes or restaurants, in the sunshine, enjoying the views, and planning your next adventure!
Check out rockreef.co.uk for pricing and booking information. You can also stay up to date with the latest offers and news by following the Rock Reef social pages:
Learning to Surf on Bournemouth Beach with Surf Steps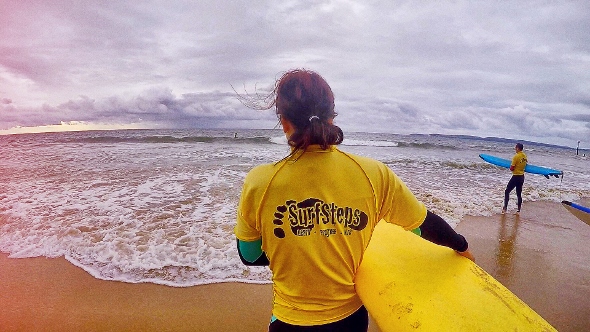 Here we go, first ever surf lesson
Down on the beachfront, 500m from Boscombe Pier lies your ticket to catching that sweet peeling wave. Surf Steps offer both Surf and SUP lessons and equipment hire throughout the year. Surf Steps serve groups of various sizes including stags, hens, children's groups or mixed groups, from beginners like me (Amy), who have never surfed, to more experienced surfers who want to hone their skills or learn some new techniques.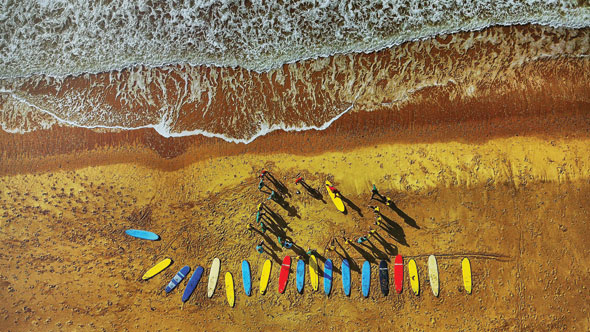 A 'stag do' about to hit the water
In the beginner's group was a more experienced surfer and a few fellow beginners. We all began with a safety talk before doing a quick beach warm up. Then, we began practising some of the more basic manoeuvres. Before long, we were in the water. I caught my first wave quite quickly and the thrill of feeling the board taken by the surging water and being carried along all the way to the shore was amazing!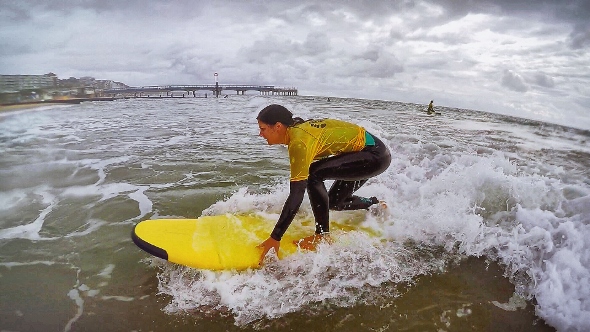 Riding that first wave
By the end of the hour I had managed to stand once and fallen off a million times – but I'm reassured this is normal, if not to be considered a successful first try!
You can find more information about lessons, timings and hire on the Surf Steps website: surfsteps.co.uk and follow their social media pages for the latest deals and updates:
Cycling the 7 miles of beautiful Bournemouth coast with Front Bike Hire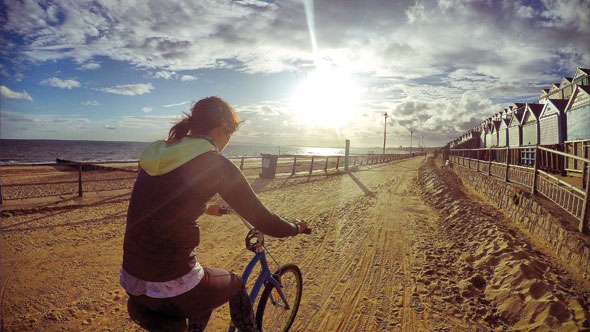 7 miles of golden beach ready to be explored
The 7 miles of golden beaches boasted by Bournemouth are just waiting to be explored. There are various ways to traverse these, including the famous land train, the jogging paths and simply strolling along in the sun. However, getting on a bike gives you the means to access greater distances, leading you potentially all the way out to Hengistbury Head or, in the other direction, across the ferry and out to the Jurassic Coastline.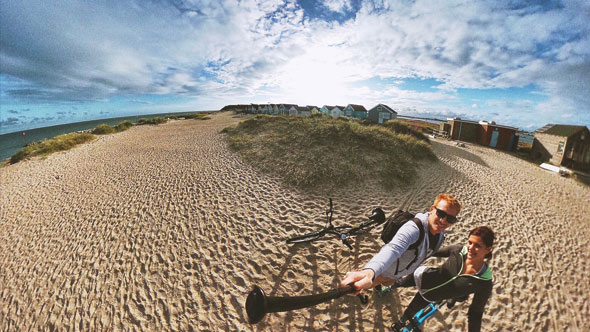 On the beach at Hengistbury Head
It also, however, retains your autonomy and, being more active, allows you a little more reassurance when you indulge yourself at one of the many cafes and restaurants along either route! There are cruisers, tandems or mountain bikes on offer from Front Bike Hire and the team will quickly set you up with a ride even helping you with planning a route. Supplied with a bike lock and repair kit, you are ready for an adventure!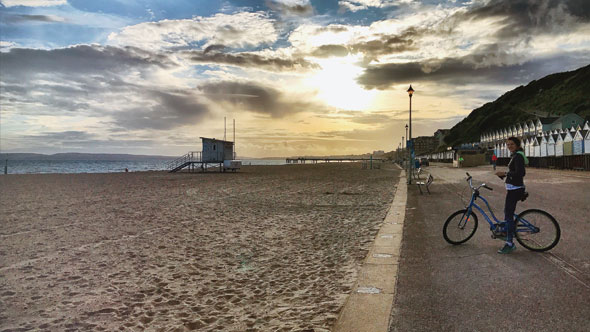 Catching that sunset on the way back to Bournemouth
We had our eyes set on a sunset cycle to Hengistbury Head. Selecting the cruisers, for comfort, the ride up to and through the nature reserve is relaxing and enjoyable. Exploring the picturesque reserve and pretty little beach huts before hopping back on our bikes to cruise back beach-side to Front Bike Hire, conveniently located moments from Bournemouth Pier.
For more information about hire, timings and tours check out the Front Bike Hire website: frontbikehire.co.uk For the latest offers and news follow the socials on:
Kayaking in the New Forest with New Forest Activities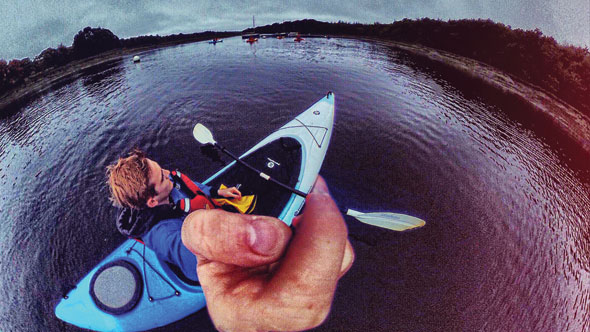 Kayaking in the heart of the New Forest
This list wouldn't be complete without a New Forest adventure! Right on Bournemouth's back doorstep is New Forest Activities, offering a range of kayaking adventures in the heart of the forest. Come rain or shine (once you are kitted up in waterproofs and splash-skirts) you can stay nice and dry as long as you keep the kayak the right way up!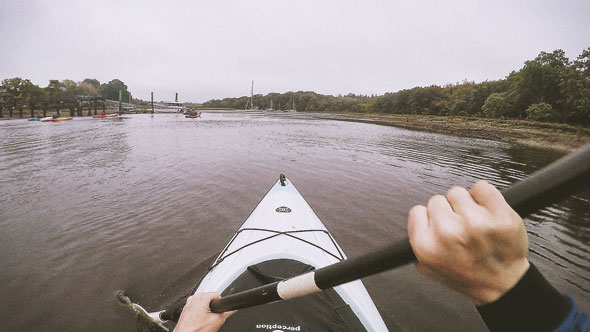 Luckily the rain held off and neither of us fell in!
The kayaks are super stable and the pace is slow until everyone has their bearings. The steady regular strokes of the kayak and picturesque scenery along the banks make for relaxing gliding down river.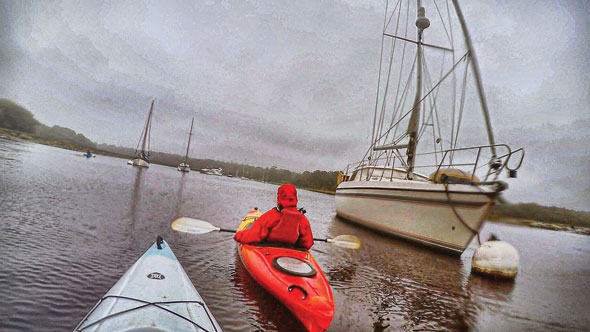 Nosing into a mooring
Time passes quickly when you are exploring little creeks, nosing into moored boats and ducking in under the trees to try and spot kingfishers. All that is left is the debate on where best to get a warming roast in the New Forest?
Hit up newforestactivities.co.uk for more info on booking, pricing and other activities. Also follow the New Forest Activities socials for the latest deals and updates:
facebook.com/NewForestActivitiesBookingCentre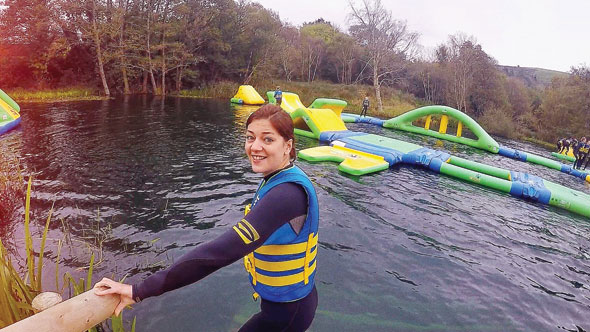 Feeling like kids again!
Have you ever watched Total Wipeout and thought: 'I mean, yeah, I could do that!' – Now is your chance! Set to the dramatic backdrop of the ruins of Corfe Castle, Dorset Water Park has two lakes with two different inflatable watercourses.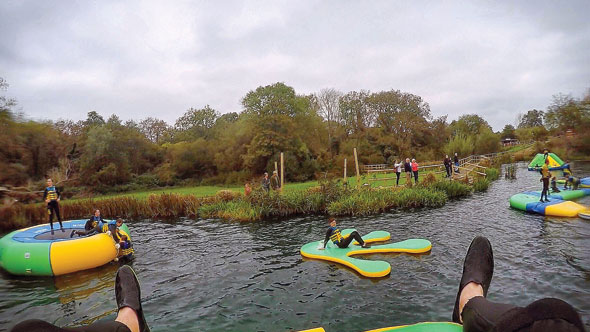 The Dorset Water Park in all its glory
Once suited up and safety briefed you are off to the first lake for an exhilarating thirty minutes scrambling around, leaping off towers, bouncing about and generally feeling like big kids again!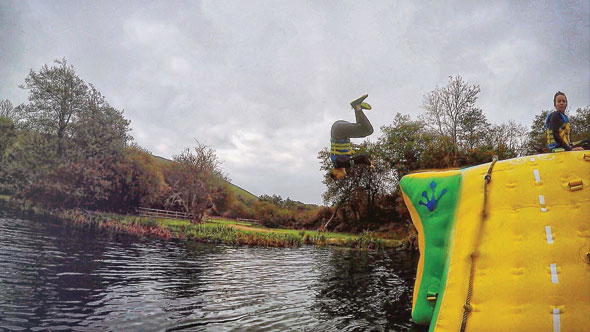 Adam a little bit upside down
Crossing over to the second lake, the obstacles are a little different with monkey bars, a slackline and lots of opportunities to bounce each other in to the water. This is a really brilliant day out, ideal both for families and for groups of friends – we can't wait to bring our friends with us next time, we know some people that definitely need to be shoved off inflatable towers!
Looking to book? Get on dorsetwaterpark.co.uk for more info. Also follow the Dorset Water Park social channels for the latest deals and updates:
Watch a video of Adam and Amy's adventures in and around Bournemouth...
Read more from Adam and Amy Wright at thewrightroute.com
Related
2 Comments