During the cold winter night of Tuesday January 5th 1897, a passing merchant ship struck an unfortunate blue whale just off the sandy shores of Bournemouth. Over the next couple of days, the ebbing tides brought the creature to rest on the beach East of Boscombe Pier. At 70ft long and weighing over 40 tonnes, the animal quickly drew an excited crowd.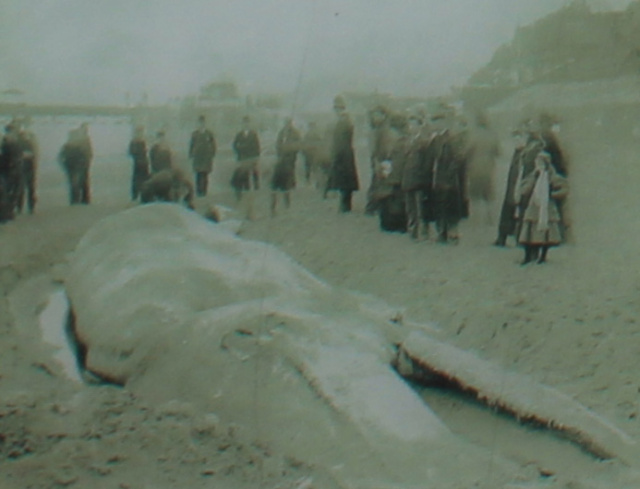 The coastguard soon arrived to claim the creature in the name of the Monarch. Whilst he deliberated on what to do with the newly acquired Crown property, local schoolmasters began conducting open air lectures and children were frequently jumping up its slippery sides and tobogganing back down again!
Within a few days, the coastguard commenced an auction in the attempts to rid himself of the cumbersome beast, and despite the persistent downpours, the curiosity and speculation drew crowds of over 500 people to Boscombe Beach! Dr Spencer Simpson secured it with a cheque addressed to the Queen for just £27 with the intention of displaying the skeleton for lectures.
Unfortunately, however, Dr Simpson did not anticipate the magnitude of the task. The crowds continued to grow from visitors all over the region until the overwhelmed doctor had to employ a policeman to guard the creature from the crowds! The Council grew nervous as the whale became a health hazard, and with no known completion date, they eventually lost patience with the undertaking and sent in Mr Cooper, the chief sanitary inspector, to remove the carcass. Dr Simpson and the coastguard attempted to prevent the removal of the whale which unfortunately resulted in Dr Simpson being arrested for assaulting the inspector with a sword stick!
Their attempt was not successful and they were forced to dump most of the blubber off Brownsea Island. A quantity however, was transported to Poole Quay to be auctioned at the King's Arms. Despite the sale being widely advertised, only a handful of seafarers turned up out of sheer curiosity. Curtis the auctioneer worked hard to drum up bids, heartily exclaiming the importance of blubber for manure and soap. Simpson had spent £135 to get the blubber to Poole Quay but finally received just five shillings for the lot!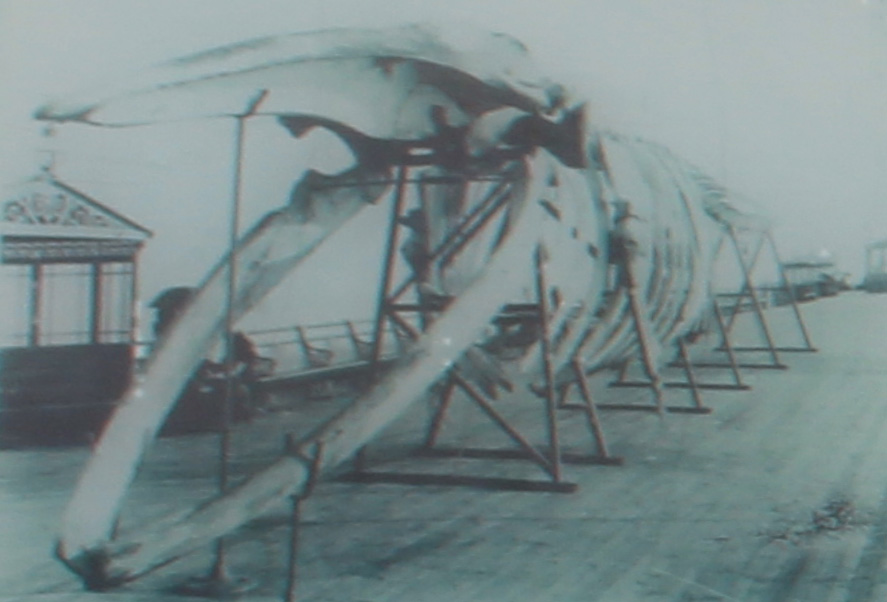 The whale skeleton was eventually mounted on a frame and displayed on Boscombe Pier in 1897, children took great delight in climbing and sliding down its sun-bleached bones, much to the annoyance of the Assistant Pier Master. It weathered a few seasons before being removed in 1904 and its whereabouts thereafter remain open to some speculation, some believe it was sold off to private collectors, however a lot of it was deposited in Powell's marine store in Victoria Road, Springbourne.
What is certain at least, is that the 12ft long lower jaw currently resides on a farm near Blandford Forum, as a large segment of Jawbone has since been obtained by local historian Andrew Emery, which has pride of place in his office, much to the delight of his rather bemused colleagues!
Related
30 Comments