The focus of the Erasmus Project is to provide tourism SMEs with the opportunity to learn from others how adaptions to digital marketing and integration can enhance their business.
How will this happen?
Identify which technologies make a positive contribution in which contexts
Identify the support required to assist SMEs to gain the most from any investment
Establish a benchmark that allows participants to compare themselves against a sector average
Enhance the performance and the competitiveness of the individual SMEs and regions as a whole

To achieve this, we need input from businesses via a questionnaire
Partners from Denmark, Portugal and the UK (one academic and one DMO representative from each destination) are seeking input from SME tourism businesses (less than 250 employees) in their respective countries to understand their use of digital technology. Surveys will be sent to circa. 600 businesses across the Dorset region, 600 in Denmark and 600 in Portugal. UK surveys will be sent by Bournemouth Tourism and the results collected and analysed by Bournemouth University.

The surveys will look to incorporate questions that ascertain feedback on matters such as;
- What digital platforms businesses are currently using
- How and why they are using them
- Their perceived ROI on this usage
- What could be done to encourage easier use of digital technology, to help realise its benefits and to encourage higher ROI.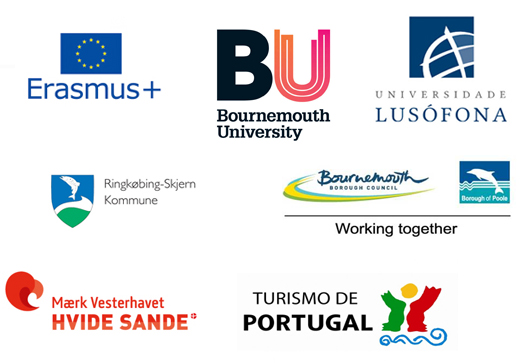 Complete Survey
We would like to encourage you to support this project by taking 15 minutes to complete this survey which can be accessed via https://bournemouth.onlinesurveys.ac.uk/erasmusuk

The results should also show what barriers and needs the target audience has. Then targeted courses will be developed, which will be offered on-line and through local vocational schools.
The goal is an increased and more efficient digital customer service and marketing, which provides higher customer satisfaction and rising economic growth for both business and the region.
The project will run from 1 September 2017 to 31 March 2020.
The project is funded by the EU, Erasmus + Program.
Partners are:
Ringkøbing-Skjern Municipality, By Fjord 6, 6950 Ringkøbing, Denmark
Ringkøbing Fjord Tourism, Nørregade 2B, 6960 Hvide Sande, Denmark
Universidade Lusofona, Av. Do Campo Grande 376, Lisbon, Portugal
Instituto do Turisimo de Portugal, rua Ivona Silva Lote 6, Lisbon, Portugal
Bournemouth University, Fern Barrow, BH125BB, Poland, Dorset, United Kingdom
Bournemouth Borough Council, Town Hall, Bourne Avenue, BH26DY Bournemouth,
United Kingdom.
Associated Partners:
UCN - University College North Jutland
DNKT - Danish Coastal and Nature Tourism


For any further information, please contact the project lead for Bournemouth Tourism:
Amanda Barrie
amanda.barrie@bournemouth.gov.uk
01202 451709